Guest Author: Rupinder Kaur
Aaj main apne ghar da number mittaiyan hai

Te gali de matthe de lagaa gali da naau hataaiya hai

Te har sadak di disha da naau punjh ditta hai

Par je tussa mainu zaroor labhna hai

Ta har des de, har sheher di, har gali da booha thakoro

Ih ik sraap hai, ik var hai,

Te jitthe vi sutantar rooh di jhalak paavey

Samajhna uh mera ghar hai.
Today I have erased the number of my house

And removed the stain of identity from my street's forehead

And I have wiped off the directions on each road

But if you really want to meet me

Then knock at the doors of every country

Every city, every street

And wherever the glimpse of a free spirit exists

That will be my home
– Amrita Pritam
I was born in England, Birmingham. My parents would have never imagined that the land and the language they left behind would be the language I would fall in love with and want to know more and more about. My journey began as a confused nineteen year-old in search of her purpose in life and on this journey I began writing poetry at first in English, later in Panjabi and finally in both. Amrita Pritam, a name that holds many worlds of not just writing but life, was one of the first writers I met on my own journey as a writer, who made me fall in love with Panjabi. Over the past few years, I have deeply explored Panjabi literature, but the poet who gives my soul a feeling that is quite indescribable and always manages to take me elsewhere is Amrita Pritam (along with Shiv Kumar Batalvi). I often get asked, "But why… why do you love Amrita Pritam so much?" —I always fall short of words to describe that 'why'.
Amrita Pritam gave Panjabi literature worldwide recognition and became Awaaz-E-Panjab (The voice of Panjab). Most of her contemporaries were men, and she dared to raise her voice when poetry itself was seen as unsuitable for a woman. It was odd for a woman to write her own story – the main reason she was disliked then. Yes, she smoked and drank alcohol, but didn't the male authors do so as well? But Amrita never cared to bother, she lived in her own world, and instead of being attached to layers and layers of boundaries of social expectations she broke freely away from them. The way Amrita lived as such a free spirit, both in her life and her works was a major source of inspiration to me, to never think about others' perception of you but to simply follow your own he(art).
Before she became Amrita Pritam, she was Amrit Kaur. How Amrit Kaur became Amrita Pritam, the woman breaking social norms, not just in her writing but in her personal life as well – I discovered while reading her autobiography, Rasidi Ticket. She had started writing very early in her life and once got a slap from her father when he discovered a poem by her which was written to an imaginary lover 'Rajan'.
Amrit Kaur was born on the 31st of August, 1919 to Nand Sadhu (Kartar Singh Hitkari) and schoolteacher Raj Bibi, in a Khatri Sikh family in Gurjanwala (West Panjab, now Pakistan). Could anyone imagine that this young girl from a traditional Sikh family would refine Panjabi literature and become immortal with her words? Perhaps not.
Amrita's father Nand Sadhu was a spiritual poet and religious teacher. He had taken a pseudonym – peeyookh – the Sanskrit word for nectar and when she was born, he named her the Panjabi equivalent of the same word, and taught her rhyme and rhythm in poetry.
"Should a page from a book be found on the floor, he would pick it up with solemn respect. Should my foot by chance fall on it, he would be angry. This has been deeply ingrained in my mind, respect for the written word – and with that for all those who wield the pen…"

Rasidi Ticket, Amrita Pritam
Amrita's feminist spirit emerges in all her writings, along with the essence of freedom and liberation from boundaries. Whether it is her novel Pinjar or her most famous poem Ajj Akhan Waris Shah Nu, both look at partition through the eyes of a woman. Throughout her works, in both poetry and stories, one finds many metaphors that explore the lives of women. Pinjar was one such story, which was later adapted into an award-winning Hindi film of the same name.
In an interview, Amrita once said, "When the man denies the power of women, he is denying his own subconsciousness." One finds the essence of these words in a short story by her that I came across – Jangli Booti (Wildflower) which, ever so subtly dissects the ways in which patriarchy shapes people's mindsets. It looks at how society often tries to control who a woman should and shouldn't love.
Amrita's writings have helped me so profoundly – to engage with my innermost feelings as a woman, and have taught me not to shy away from writing the bold truths of my life. She is the woman who made me understand what true love is and what it really means to be a feminist.
After moving to Delhi during the turmoil of the partition, she separated paths with her husband Pritam Singh, as she was in love with Sahir Ludianvi, the Urdu poet and lyricist. She wrote a collection of poems titled 'Sunehre' for Sahir, which later won the Sahitya Akademi Award, and dedicated the award to him. This love didn't last very long as Sahir later found company in someone else.
Amrita eventually found love with the artist and painter Inderjeet – Imroz who loved her for who she was without any judgments and expectations. They spent the last forty years together, before Amrita Passed away on 31st October, 2005 after leaving her last poem- Main Tainu Pher Milangi, dedicated to Imroz.
Much is known, discussed and highlighted about the love life of Amrita Pritam, especially the highly romanticized relationship of Sahir and Amrita. I, however, have always felt that if you're ever in love, love like Amrita and Imroz. Many people dream of love, but only a few get to live it. For me, Amrita and Imroz are the perfect example of what love truly means, and for them I penned a line in Panjabi:
Je ishq karna mere naal ta kar Imroz vangu
nai ta na kar.
If you wish to love me, then love me like Imroz
else don't.
– Rupinder Kaur
Imroz once said,
"Ever since I have lived with Amrita, the anger within me has disappeared. I don't know how. Perhaps the emotion of love is so strong that when you are filled with it, hatred, anger, jealousy all disappear. Just as there is no darkness when there is light around. When love brings happiness, peace and rejoicing, you don't talk harshly to anybody because there is no harshness within you."

Amrita-Imroz, Uma Trilok
Most recently I have been reading her book, Adan Bagh De Yogi, and it has made me feel and think differently about religion, spirituality and God. Amrita writes: "Har dharam, te mazhab di buniyaad mohabbat hondi hai" – For every righteousness and religion, the foundation is love.
Amrita went on to inspire a whole new generation of Panjabi female poets and still continues to do so. Her pen gave birth to many female poets who, at a time, were known as 'baagi – vidroohi' auratan, meaning 'rebel women'. Nirupama Dutt, who calls herself the daughter of Amrita Pritam is one of my favourite contemporary Panjabi poets and translators. I shall leave you with her poem 'Laughing Sorrow' in which she makes a reference to our beloved Amrita Pritam.
I will not let sorrow sit still
today in my home
Pushing it into my jhola
I will take it along
to the city streets
Today I will steal a bright red
gulmohar bloom and put it
in my hair
Borrowing smiles from the
Coffee House waiter
a little joke with the
library caretaker I will share
When all these tricks
to cheer a sorrowing day fail
I will sit on the slope
outside the girls' hostel
and light my cigarette
the ashes will mix for sure
in my poem today
and readers will get a chance
to say I am all wrong —
"Such are the constraints of
poetesses of Amrita Pritam's age,
a cigarette is their only solace!"
Thinking of my constraints
I will be ever so pained
blaming it all on my wretched
two affairs and a half
I will go to the poet of the city
looking for life without restraint
He will have half a bottle of rum
in one pocket and a freshly
written poem in the other
He will teach me a mantra
or two of life and reading
his new poem promise to
leave drinking for all time
I too will make a list of
good resolutions and seeking
time for just one more love
I will turn myself into words
The drifting sorrowful day will stop
look back at us and laugh
I will become a part of the magic
of making a sad day snigger
Scattering lines of sorrowing laughter
I will come away
– Nirupama Dutt
(If you can read Panjabi, here is a link to a lot of her poems available online)
References:
Rasidi Ticket (revenue stamp) – Amrita Pritam
Amrita-Imroz, Uma Trilok
The wildflower, translated by Nirupama Dutt –

Read

Laughing Sorrow – Nirupama Dutt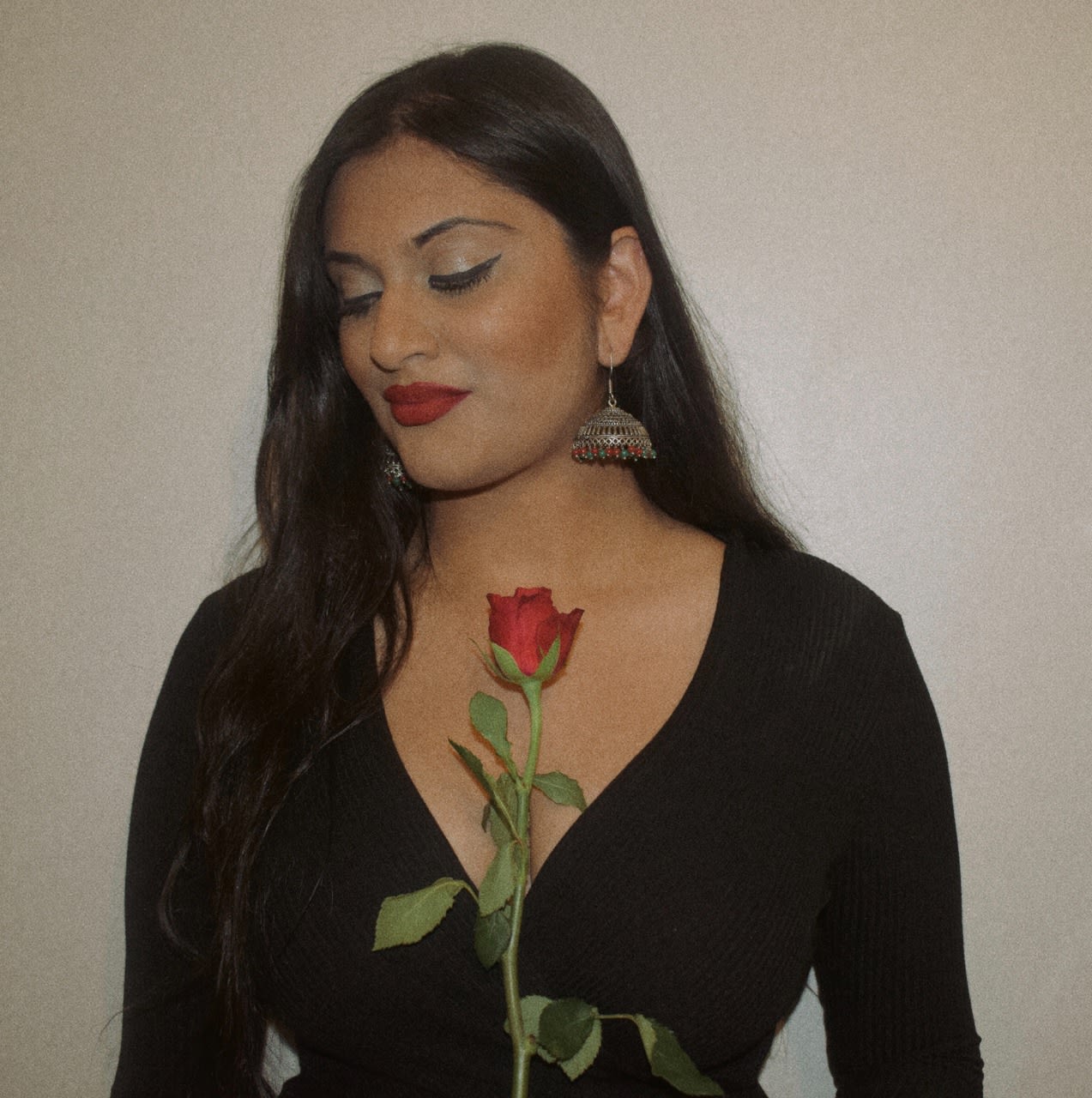 Rupinder Kaur is a Birmingham based poet, writer, and performer. Her debut poetry book Rooh (2018) was published with Verve Poetry Press. She is the founder of Azaad Arts and co-founder of Gully Collective.