(Readers' submissions: Celebrating one year of the Indigenous Blog)
By Sakshi Nadkarni
As a non-Bengali who didn't grow up listening to Rabindra Sangeet every night, or hearing Tagore being alluded to in every other conversation, I was largely unexposed to the literary brilliance of Tagore for the major part of my life. My first encounter with him was my first-grade annual day, when my Bengali teacher made me learn and recite 'Where the Mind Is Without Fear' in front of a thousand parents. Dressed in the lal par shada saree, with alta smeared on my palms and feet, I recited the poem (which I had painstakingly memorized) in a characteristic sing-song voice, without taking any notice of the sheer power the words held. Later, when I was fourteen, I studied his Kabuliwala, and I remember reading the story ahead of my teacher, my eyes brimming with tears at the last sentence, which I had to carefully shield from my classmates. A year later, my mother's uncle gifted me a copy of the Gitanjali, his favourite poetry collection, through which I leafed, but which eventually got forgotten, and found a place in a hidden corner of my bookshelf.
Cut to a random evening during the lockdown, when I chanced upon the old, dusty copy of this slim poetry collection. By then, I had already discovered my affinity for Bengali culture, watched (and loved) a couple of Satyajit Ray and Rituparno Ghosh's films, and listened to 'Tumi Je Amar' on loop. I got the book out, found myself a cozy corner in the balcony, and put on Arijit Singh's version of 'Amaro Porano Jaha Chaay', on low volume. I started reading Tagore's poetry randomly, flipping through the pages and letting the miracle of Tagore's words come to life with every single one. That was the start of my love affair with Tagore.
And it has been going strong and passionate ever since. I have devoured every piece of his incomprehensibly vast oeuvre I could find – novels, short stories, letters, lectures, songs, and of course, poetry. I am nowhere close to covering it all – I have barely finished reading his English writings. As the Bengali saying goes, no one can read in one lifetime what Tagore wrote in his. But I can perhaps say that I have read a substantial amount of his works, and even if I haven't, a taste of Tagore is enough to fall for him and to know him for who he is.
I believe that to appreciate a writer in his entirety, chronology assumes importance. To fleetingly appreciate a work of art, you perhaps need not know the story behind the artist, but to appreciate an artist, you must be able to appreciate his art in a holistic, expansive way. And Tagore isn't a writer to just touch upon – he must be engulfed and swallowed and savoured in the most rapacious way possible. So, I decided to curate a personal (and in no way expert) reading list of sorts – recommendations on how to dive into this unfathomably, prodigiously massive volume of Tagore's writing. 
Start with his poetry. In his memoir 'Aatmaparichay', he mentions that no matter what he may have achieved in his life and what he may have done and been, the only thing he has been able to conclude about himself is that he is a poet. Of course, this is an immensely pinpricked definition, as the deep personal and social influence of his legacy proves, but it is a statement of self-awareness. If he could boil down his multifaceted and multidimensional identity to a single word (even though that word might encompass a universe in itself), it must be the appropriate starting point to begin the literary odyssey that is Tagore's writing. Sisir Kumar Das' Volume I of 'The English Writings of Rabindranath Tagore' includes a sweeping collection of poetry that Tagore either wrote in English, translated into English himself, or whose translation into English he supervised. This compilation includes 14 of Tagore's poetry collections, including Gitanjali, The Gardener, Stray Birds, Fireflies, his translation of the poems of Kabir, Fruit-Gathering, The Fugitive, and more. Manasi and Sonar Tori are not included here, but as always, are worth visiting and re-visiting.
Tagore's songs are a part of his poetry itself, but of course, they cannot be listened to in translation. Regardless, written translations are available in plenty on the internet, provided by enthusiastic Bengalis, especially on the Gitabitan website, which aims to capture all of his poetry and their translations and make it freely available for users. The name of the website draws on the book Gitabitan, translated as 'Garden of Songs', which is a comprehensive compilation of all of Tagore's 2232 songs in Bengali. Listening to his devotional songs is a form of worship in and of itself, and listening to his love songs, ah, there is no way to describe it than by saying they are sublime miracles of life disguised as words.
Tagore's short stories are miniatures of his novels, characterized by the same deep dive into relationships and minds, and coloured by the spirit of the times. The volume of his short stories is almost unfathomable and uncountable, but several collections encompassing varying compilations of his work are easily available. I personally started off with the Maple Classics published 'Selected Short Stories' of Tagore's, but there are numerous alternatives, all equally viable. Penguin has a considerable collection of his short stories, and Rupa Publications, Embassy Classics, and Miniature Masterpieces also have their own collections. His dramas, of which the most popular perhaps is Post Office or Daak Ghar, are the genre that I have delved least into, but they present a novel understanding of Tagore – in terms of his visual aesthetics. Valmiki Pratibha, Visarjan, Raktakorobi, Chitrangada, Chandalika, and Shyama are some of his most well-known dramas. The last three blend three forms of art – dance, drama, and literature, creating a polyphonic orchestra of emotions.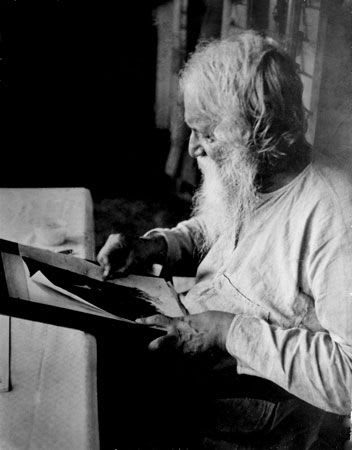 Move on to his short non-fiction writings, because as much as Tagore was a literary genius, he was also a prominent figure in the social and political scene of his times. And to understand him as a person distinct from his literary works (especially poetry, which usually talks only of the intangible matters of the heart), it is important to understand him as a product of the time and space he lived in. There is no dearth of his political, social, and other non-fiction writings – found in his essays, letters, and lectures. Penguin in its Modern Classics edition has published a volume of Tagore's 'Letters from a Young Poet'. 'Glimpses of Bengal' is another compilation of his letters, and several others, with varying letters from varying time periods, can be found. Also available in a variety of publications is his compendium of lectures on the nationalism of India, Japan, and America called 'Nationalism'. Another book length collection of thematically connected essays is 'Religion of Man'. Most of these and many, many other essays, letters, lectures, and religious discourses (over 250 collections spanning 1000 pages) from Crisis in Civilization to The Message of The Forest are included in Sisir Kumar Das' Volume III of 'The English Writings of Rabindranath Tagore'. This volume also includes Tagore's Nobel Prize acceptance speech – a wonder of humility and grace in the midst of such prestige and glory.
This might be a good point to start reading Tagore's memoirs, considering the acquaintance with his short prose writings, which gives a cursory, but important nevertheless, insight into his rich life. There are several of his memoirs available in Bengali, and most in translation, including Chhelebela, Aatmaparichay, Jibansmriti, and more. Uma Das Gupta has also, in her book published by Penguin called 'My Life in My Words' blended the genres of biography and autobiography by compiling and sequencing Tagore's own writings about himself in an orderly fashion from his birth to death.
At this point, perhaps, a reader might become 'Rabindrik' enough to tackle Tagore's major works of prose – from his widely famous Chokher Bali, Ghore Baire and Gora to his children's novel Shey. I don't think this is a comprehensive or exhaustive reading list by any means – but apart from the novels mentioned above – Shesher Kobita, Teen Kanya, Noukadubi, Nastanirh, Chaar Odhyay, Chaturanga, Jogajog are a few of his longer prose works. Tagore's novels see a perfectly harmonious blend of the spirituality, emotionality, and psychology of his poetry and the politics, sociology, and culturally rooted architecture of his essays and lectures. His novels certainly have social, or political, or both dimensions, but are primarily an exploration of the human psyche in its myriad emotions, sensations, and perceptions. They place at their centre not the zeitgeist of the time, but his humanism and humanistic philosophy.
And finally, to understand Tagore through the lens of others and to lend another perspective to a man, whose physical presence our generation, unfortunately, hasn't been blessed with, there are several on-screen adaptations of his work and documentaries on his life. There are also several biographies of him, but their credibility, as always, is questionable. Prolific Bengali director Satyajit Ray's 1961 documentary on Tagore is perhaps the best one – it is the tribute of one artist to another, and hence a beautiful blend of two artistic tendencies. Rituparno Ghosh is another renowned Bengali director whose documentary, titled Jibansmriti, after Tagore's memoir, is also worth mentioning. Apart from this, Suman Ghosh's film Kadambari, which focuses on the life and mysterious suicide of Tagore's childhood companion and sister-in-law was shot in Tagore's own home and portrays him in new light.
Indeed, there is no chronology to falling in love with either art or an artist, and if there is, it is different for every person. I do not insist that this is the right way to read Tagore, nor do I claim to have any absolute knowledge of the mystical man who has more facets to him than the most exquisite of diamonds. In fact, as I read this to my mother, she said that Tagore's poetry would be best read last of all, since it forms the essence, the core, what we in Marathi call the 'gabha', the womb – the source and origin, or the 'gabhara' – the innermost, elusive, sacred sanctuary of a temple. According to her, other layers of work must be peeled off before one can see the essence shine bright. However, I believe that none of Tagore's works can be read in a vacuum, except for his poems. His poems stand alone as extraordinary works of art separate from the artist, and hence are the most accessible. Knowing Tagore isn't necessary to love his poetry. Instead, it is necessary to love Tagore's poetry to know him.  Anyway, the fact of the matter is that there is no right or wrong to delve into a writer's work; each meandering journey, no matter the route, leads to the same destination. It is only necessary to start the journey, because it is a life-changing one.
Sakshi Nadkarni is a part-time writer, full-time reader, and a firm believer in the power of love & art and its realization through introspection & observation. she studies Literature at St Xavier's College, Mumbai.