(Readers' submissions: Celebrating one year of the Indigenous Blog)
By Anisha Roy
While Indian cinema was well known for its over-the-top portrayal of the 'angry young man' archetype which mostly used women as tools for a man's self-actualization, some beautiful minimalist films were being made around the same time by one of India's finest, Satyajit Ray. Strongly rooted in Indian (more specifically, Bengali) culture, but deeply personal and universal at the same time, rural and middle-class India found its place in his films. Right from Pather Panchali (1955), his first, Ray often received flak for portraying the not-so-glamorous side of India to the world, but that didn't stop him from remaining true to his subtle yet strong portrayals on screen. His films were the mirror of its times, and of the Indian society with its various contradictions. The fact that none of his films overtly put forward a political statement is a common point raised by critics against his body of work. But if Satyajit Ray's filmography is studied a little more closely, one finds recurring motifs and themes emerging from it. Feminism, for instance, was seamlessly blended into his stories. Keeping with the popular dictum, 'Show, don't tell', the strength of his films lay in conveying a lot without saying much.
The Independence of Women
The acceptance that women could have aspirations of their own had been missing in the erstwhile cinema landscape of India. Either as a mother or a dutiful wife, women were epitomized for their loyalty in upholding the patriarchal framework. While mainstream cinema, especially Bollywood, found it almost impossible to view women as individuals separate from the family, with their own dreams and thoughts, Ray's work was a breath of fresh air. Be it Charulata's (Charulata, 1964) inclination towards literature, Karuna's (Kapurush, 1965) will to get a job as she was qualified enough, or Arati's (Mahanagar, 1963) venture into the outside world as a saleswoman – in his universe, women rarely lacked agency, and could potentially be well-off even without their male counterparts. If we take Charulata for instance, for the longest time women of that era had been shown through a patriarchal lens. They were more likely to engage in work that would have aided their husband or other family members. Rarely did we see their likes and dislikes being fleshed out properly. However, from the very first scene, we see Charulata meandering across the house doing the things that she likes: reading, knitting, stitching – her internal world gets precedence from the get-go. I believe the establishment of an independent headspace of women characters went a long way in proving female capabilities. Despite being born long after the time that Satyajit Ray documented, his stories struck the right chord in me every time. He didn't intend to be flamboyant. Instead, he captured the essence of the emotions that his women were capable of feeling. Hence, when Arati finally began working, we walked along the streets of Kolkata along with her. Her daily wins became ours. There is a certain universality in his films. Regardless of their backdrops, Satyajit Ray's women seem to be connected – as if they're all trying to break free of the mould, with their period-specific obstacles posing formidable hindrances. Thus, years later, his storytelling continues to empower the slightly scared rebel in me to speak up against wrongdoings.
Companionship
After having established their agency, Ray delves deeper into questions of love, companionship, and allies. The period in which the films were set wasn't conducive to women, to begin with. In addition to that, the freedom to choose their life partners was a foreign concept, which made far too many women stuck with people they had no compatibility with. Ever so often, Charu wished to find the comfort in Amal which she couldn't in her husband, Bhupati. Only Amal had discovered that she could write – opening up a world of unimaginable possibilities. Charu's love for Amal was so much more than a romantic affiliation – it was a promise of freedom. In Mahanagar, Arati, initially nervous to take up a job, perhaps wished for nothing more than an ally in her husband, Subrata. But Arati's self-dependence, to him, was stifling. Like most Indian men, Subrata was conditioned to play the game of one-upmanship with his wife. When his wife started taking major financial decisions in the household, he stood baffled- almost as if he was rediscovering his own purpose in the family. Such is the pernicious nature of patriarchy – it breaks men as much as it does women.
Innate Goodness in Character
To drive home the inevitability of women empowerment, it was necessary to show the best-case scenario. It was important for Ray to not villainize someone for the sake of it. In Mahanagar, when the family was bridled with financial tension, Arati decided to start working and Subrata supported her unwaveringly, even though his parents were devastated knowing this. It is only when Arati's success started overshadowing him, did Subrata start taking offence. Like any well-mannered man, Subrata escorted Arati to her office now and then but when he was incapable of showing this patronizing behaviour, he felt small and insignificant. No matter how tough situations became, Subrata wasn't shown to resort to conventional methods of domination. Perhaps, Ray understood, showing that would be an easy way out and also an instant switch for the audience to separate themselves from the film's status quo. Arati's in-laws were the obvious "villains", so to speak. However, you still empathized with the place they came from. In Charulata and Kapurush, the third character was never made into a monster either. With all his heart, Bhupati wanted to take care of Charu and embolden her; Karuna's husband Bimal was no exception either. However, with love sometimes being the most complex relationship to build, while some wish to care for us but cannot understand our feelings, the ones who do, are seldom capable of expressing themselves. In this eternal dilemma, life goes by, and despite all the love there was to give, most of us live in pain.
Ray's Politics and his Multi-Narrative Cinema
No story exists in isolation. All lives are subject to change with their surroundings. Hence, basing the film in Kolkata, Ray had to include the contemporary wave of recession, ill-treatment of Anglo-Indians, and the lack of proper jobs for women in Mahanagar. Constructing a climax addressing the pathos of an Anglo-Indian girl, Edith Simmons was a gutsy move from his side, as well as a necessary step. The ongoing Swadeshi movement, the contribution of the middle-class Bengali intelligentsia also worked as an able backdrop for the story of Charulata to flourish. Bhupati's patriotic fervour and his will to change the world and the then condition of India through his editorials worked in direct contrast to Charulata's world of homely chores. This striking difference gives us insights into the non-participation of far too many women the freedom struggle could have used. The local politics of tea estates, the aristocracy and rigid casteism which was prevalent there also found mention in Kapurush. None of this was hammered into the minds of the viewers, but carefully blended with the screenplay of the films instead. We seldom looked at the men and women in his films separate from the backdrop. We understood where they came from.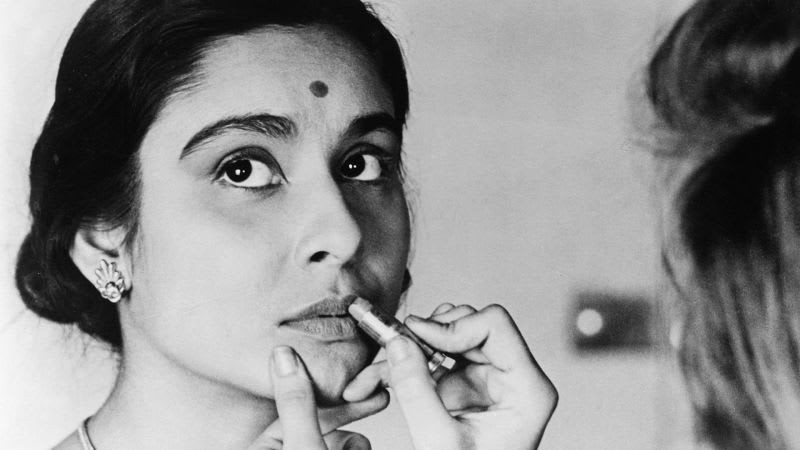 Sisterhood, or the Lack of it
Patriarchy has conditioned us to believe women can't be good friends with each other. However, it is more likely for a woman to understand another's gendered experiences. Hence, each time Edith helped Arati to be more street-smart, applied lipstick on her, a familiarity brought them together in the toxic world of workplace harassment. Although Arati had little in common with Edith, she decided to fight back and protest when her "well-meaning" but overbearing boss hinted at the latter's promiscuity owing to her lineage. Such is the healing power of female friendships. Popular culture would have us believe something else. For years on end, women were portrayed to cut down upon other women's independence in lieu of attention from powering men. Society didn't allow women to live happily if they weren't endorsed by men, you see. Possibly, this functioned in Charu when she looked at her less educated cousin, Manda with utter disdain and scorned at her each time she spoke to Amal. Only if she knew who the real enemy was!
Anisha Roy is a junior doctor/intern at the Calcutta National Medical College and Hospital. She enjoys watching films and writing about them.