It is often said that cinema is our window to a different world, bringing us closer to the lives of others. Sometimes, these are stories of people we relate to, finding pieces of ourselves in them. Characters are what drive the story. We find the veteran Martin Scorsese saying that "the films that I visited or saw over the years are not for plot but for the character". How a story or a character is perceived by the audience is controlled by the filmmaker, for we see what the filmmaker wishes to show us. Every frame from the filmmaker's lens takes part in this job, and is collectively responsible for creating the desired impact on us. But often, there's another lens at work – when the filmmakers decide to hand their characters a camera. Immediately, the filmmaker has yet another strong tool to build a character. The inclusion of a photographer in the narrative manifolds the act of looking. We become the third viewer. We see what the filmmaker wants to show us in the narrative, but we also see what the photographer sees in the film. This photographer's lens is not the same as that of the filmmaker – what the character feels important enough to document, what captures their attention enough to press the shutter button are subtle but strong revelations about their personality. In today's world, images are becoming the foremost source of information. Sontag had aptly remarked, "Today everything exists to end in a photograph". The photographers are becoming ever so important in shaping our world views, our ideology, our being through their images. A month after World Photography Day, we look back on a handful of photographer characters that Indian cinema has gifted us with – discovering stories within stories, the lens behind a lens.
The photographer who perhaps leaves the most prominent impression on us is Aaliya in Anand Gandhi's exquisite film, Ship of Theseus (2012). Played by Aida-El-Kashef, a distinguished Egyptian filmmaker herself, we meet Aaliya, an Arabic girl who lost her eyesight as a child, taking up photography "first to document, archive and remember and then to kind of… explore, understand and see." In this one statement, she aligns her own journey as a photographer with the evolution of photography. The medium of photography indeed started out as a tool to document events, be it portraits of rich noblemen made in daguerreotypes or the pictures of the Crimean War by Roger Fenton. It has then come a long way from mere documents of history to works of art with carefully constructed images, often exposing the vulnerability of the individual. Being a creative person, Aaliya also has her share of frustrations and fears about losing her voice under the opinions of the "stupid, opera watching" Indian audience. A smile lingers on her face when one interviewer assures her that she is doing quite well as a photographer. The film takes us through the daily grind of a photographer, which is rare in Indian cinema, and we see how the hullaballoo of the streets make up her world, in contrast to the quiet confines of her apartment. She photographs with the help of sounds – it is the sound, the other element of cinema which gives way to the construction of the image. The exhibitions of her works are designed to give the audience a feel of her process of image-making, the process literally leading up to her captured image. This establishes that photography doesn't only consist of seeing through the eye but it also concerns our other senses.
Aaliya constantly questions her own work and never, for once, settles for her boyfriend's complacency. The couple fights quite often, and we, as silent spectators, see how a woman tries to hold on to her opinions – in turn, protecting her images and discarding some too, against the apparently supportive male partner's consistent urges. The scene where she leaves the kitchen after a tremendous quarrel with her boyfriend to go to the other room and caress her images is a clear marker of her possessiveness for her creations – images are indeed babies of the photographers. She's sure of how she wants her image to be, setting the degree of contrast with absolute conviction as she edits her photo, confidently directing strangers to take up a position and look in a direction as she captures them on her camera. Strangely, this conviction disappears after she regains her eyesight with a transplant. The regained eyesight doesn't help in her image-making. Instead, the city she has been photographing for years is suddenly overwhelming, almost drowning her in its cacophony as she struggles to concentrate on a frame. Something doesn't seem to click for her, pushing her to seek inspiration from the mountains. The film leaves us wondering whether she comes back and starts constructing "elaborate scenes, costumes, light" moving beyond the decisive moment of Cartier-Bresson, if she does find inspiration – answers to questions she faces with her newfound sense of sight.
In Mrinal Sen's Khandhar (1984), Naseeruddin Shah plays Subhash, a photographer who visits the ancestral house of his friend in rural Bengal. The film begins in the darkroom of Subhash's studio where he develops a photo of Jamini (Shabana Azmi), that takes him back to his days in the crumbling mansion. Far from the bustling city, time seems to come to a standstill for the three friends amid the ruins of the sprawling manor. To the photographer in Subhash, the rustic beauty of the place makes it paradise as he roams around, discovering its nooks and corners, long corridors and broken walls, capturing them on his camera. In one such exploration, Subhash finds Jamini, his friend's distant relative who lives with her ailing mother, one of the few people to inhabit the house, not having left for the city. Slowly and inadvertently, he finds himself entangled in Jamini's life, for her mother thinks he is Niranjan – a man who had once promised to marry Jamini but never returned. Ever since, the ailing woman has been stuck in a sort of time warp, carrying hope in her heart that he shall return one day for her daughter – almost as if this hope is what has kept her frail body alive all these years. Caught in a moment of helplessness and despair, when her mother reaches out to him with shattering hope, Subhash is forced to promise to her that he shall marry Jamini. Although it is understood by both of them that this is a false promise to pause the delusional ramblings of an old woman, guilt keeps gnawing at Subhash's conscience, and he is haunted by the memories for years.
The film ends with Subhash working in his studio, but on the wall, we find an enlarged photo of Jamini standing amid the ruins. Jamini's intense eyes, the mother and the daughter who helplessly cling to each other to spend their lives, remain with him forever. The photographer's passion to capture what is hidden from popular view takes them places. It is these experiences that enrich them, adding value to their art. Just like these experiences can be exhilarating, they can often be disturbing as well. Subhash's experiences make him emotionally vulnerable, and it is perhaps due to this vulnerability that the photographs of the trip return to him with increased importance and deeper meaning as he develops them in the darkroom. This emotional connect between the photographer and their art is what sets it apart and enhances its authenticity. By this, if we mean that emotional involvement is absolutely essential for a good photograph, we are perhaps not fully correct – one is immediately reminded of M. K. Raina's character, the photojournalist Anwar in New Delhi Times (1986). One feels he is apathetic, almost cruel when he is mildly happy to find a riot happening – to him, it means a few good photos for a good story, he says. But this is only half-truth. There's reason behind this apparent nonchalance – 'We used to feel the tragedy, when it used to happen occasionally. But now, when such events happen every other day, it has become a farce. It doesn't affect us anymore', he says. Anwar's problem is perhaps not his alone, but of several professional photojournalists. His constant interaction with images of violence and inhumanity has forced him to distance himself emotionally from his work, yet, the same constant interaction has helped him master his skills as a professional.
At the extreme end of emotional connect lies obsession. Sivapuranam (2016) is an unusual take on the obsession of a person, not exactly a photographer but a young designer on an image of a girl whom he chances upon in mysterious circumstances. The entire film becomes a visual diary of his daily shenanigans aggravated by the atmospheric sounds. The obsession comes from his loneliness and soon it turns into voyeurism. The voyeurism is confirmed by his manipulations with the captured image and sliding of a surveillance camera over the door into the adjacent room occupied by the woman in the image. His adventures will remind one of Michelangelo Antonioni's Blow-up (1966) where the character of a fashion photographer Thomas enlarges an image he has taken by coincidence and his obsession leads him to believe that the image might contain an important proof to an incident of murder. Inspired by the same film, is Kundan Shah's cult satire, Jaane Bhi Do Yaaro (1983). Young, enthusiastic photographers Vinod and Sudhir accidentally photograph a high-profile murder. Through their elaborate investigations and hilarious adventures, Shah leaves a brilliant commentary on Indian politics, business and media that remains relevant to this date.
Aparna Sen has handed the camera, most prominently, to two of her characters – Rahul Roy (Mukul Sharma) in Parama (1984) and Jehangir Chowdhury (Rahul Bose) in Mr. and Mrs. Iyer (2002). To compare them, what is noticeable is how the two films deal with the concept of consent from a photographer's point of view. Considering the camera to be the most powerful tool of visual recording and documentation, and considering how it has invaded the lives of the common man today, this is indeed an important discourse. Rahul is a photographer based in the US who comes to India after completing a well-appreciated series of war photographs in Lebanon. His current project is a series on the Indian housewife, and his muse, Parama (Rakhee Gulzar) – what follows is a brief spell of passionate romance. After Rahul leaves (yet again, this is simply an addition to the photographer's many experiences and he must carry on in his own journey), the photos are published in a magazine, one of which is of a particularly intimate moment during their affair. This bares Parama's life to the general public with a sudden, brutal intervention of family, friends and strangers into her personal space.
In this regard, we find a sharp contrast in Mr. and Mrs. Iyer. In a particular scene, we find Jehangir's camera playing an important role in building the friendship between him and Meenakshi, and it brings them closer during the days of being thrown together into an uneasy circumstance. Despite the trust that is established between them, in one of the most profoundly beautiful moments of the film, Jehangir silently takes out the memory card from his camera and gives it to Meenakshi at the end of the trip. This is a powerful establishment of Jehangir's character – if one tries to draw parallels between the two photographers of Aparna Sen, it is not very difficult to argue that Rahul would perhaps never do what Jehangir did. The camera, thus, plays a central role in the character sketch.
"I felt that the dhobi ghat is a metaphor for the city…The film really helped me discover Mumbai, in a sense." says Kiran Rao, the debutant director of Dhobi Ghat (2010). Just as Rao discovered the city while making the film, Shai (Monica Dogra), having come to the city for a sabbatical, also goes on her own discovery of the city. An investment banker by profession, Shai loves to take photos as a hobby and her guide to the nooks and crannies of the city is her dhobi guy, Munna (Prateek Babbar). Shai befriends Munna and asks him to take her to the dhobi ghat and let her take pictures of him while working. They roam around the streets of Mumbai with Shai capturing the people on the streets–rickshaw pullers, the fish-market ladies, the flower sellers, cart-pullers and even the generations-old Muslim perfume-makers in delightful portraits.
Beside Shai, there's another person silently documenting her life in Dhobi Ghat – the previous occupier of a flat that Arun starts living in. These are videotapes recorded by Yasmin Noor, a young girl who has come to the city of Mumbai after marriage. These tapes are personal and give another perspective to discovering the city through the eyes of a newcomer and an amateur videographer. In today's world, anyone and everyone can be a photographer or videographer. The democratization of the medium has opened up possibilities of myriad stories with authors coming from different classes, creed and gender, increasing the potential of the medium to unlimited proportions.
As we discover the city in Dhobi Ghat, we are sometimes reminded of another film, Bombay Summer (2009), where Madan, an artist, while working on a project takes his boss Geeta and her writer boyfriend Jaidev to old abandoned textile mills. In a montage of freeze frames, we see the beauty of the abandoned places which are hidden in the transitioning city. These textile mills and chawls are the city's past, usually hidden from the public eye in the race to establish the modern Mumbai. The photographs in Bombay Summer are to evoke a sense of nostalgia for the city that was, as confirmed by Joseph Varghese-Matthew, the director who hadn't bowed down to pressure by political parties to change the title to Mumbai from Bombay, stressing that Bombay was an essential backdrop to his film's story.
The city is again a backdrop in Ritesh Batra's Photograph (2019), where Rafi and Miloni's relationship begins with his request to take a picture of Miloni in the crowd of the Gateway of India. Rafi promises, "when you will see the photo years later, the sun on your face is what will remain, the wind in your hair, and all these voices in your ears, will all be gone". Rafi is one of those hundreds of photographers who roam around Gateway of India taking photos of tourists and visitors to the monument. His honest claim reminds us that it is only the photograph that remains as the memories fade, taking away with it all the details and the feel of a particular day. They do not end up together just as Shai and Munna were not meant to be. The class differences play a part in the inevitability of their ephemeral relationships while circumstances play a part in Madan and Geeta's in Bombay Summer. The role of circumstances in a relationship also reminds us of Sulemani Keeda (2014) where we meet another woman photographer, Ruma, who chances upon a screenplay writer Dulal at a party, leading to a short friendship which lasts till Ruma leaves for studies abroad. In this short duration of a couple of days, as they bask in each other's company, Dulal asks her why she likes to photograph. Rumi explains beautifully that the camera acts as a memory device, always supplying us with the footage to help us remember a day from our past.
In the same year as Bombay Summer was released, Wake up Sid (2009) by Ayan Mukherji also narrated a coming-of-age story of a rich brat Sid (played by Ranbir Kapoor) who found his passion in photography. Photography played an important role in his growing up from a pampered boy to a responsible adult. Photography as a profession was also shown in films like Yeh Jawaani Hai Deewani (2013), Dostana (2008) and Cocktail (2012). The characters' identity as a photographer didn't influence much of their actions or being in the latter two films but Kabir's (again played by Ranbir Kapoor) passion to travel the world and see places and be the fearless and carefree being that he was, had much to do with him being a photographer. While we see characters who have taken up photography as a vocation, in 3 Idiots (2009) we find that taking up photography as a profession by convincing Indian parents is a herculean task in itself. But Farhan does convince his parents with the help of his friend Rancho and ultimately becomes a wildlife photographer.
Although there haven't been too many photographers in Indian cinema, we do see a steady rise in recent times – perhaps owing to the growing popularity of the art form today. In several of the films we talked about, the fact that the characters are photographers has taken a backseat after a while, but there has remained some lingering trait – a quirk, a habit that can be traced back to them being attached to the art. That is perhaps the beauty of having a passion – it finds us, gives us an identity that isn't measured by any of our achievements. It stays because we want it to, devoid of expectations, beyond the tedious monotone of existence.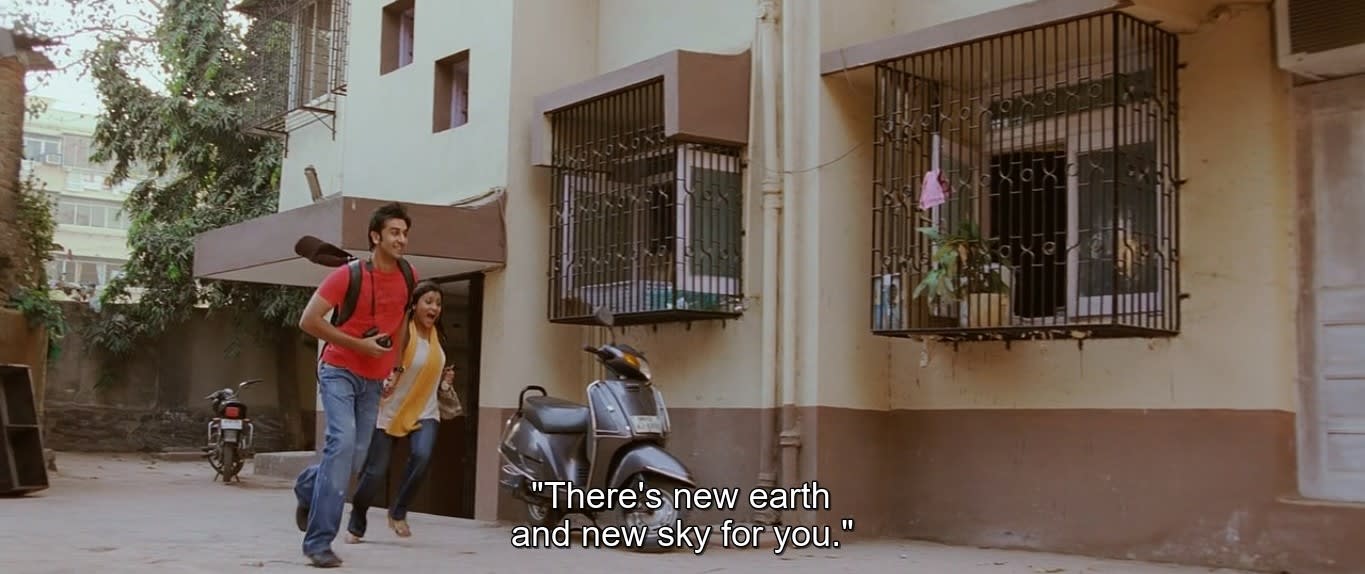 This article has been co-authored by ind.igenous with Sourajit Saha.